News
CONSTRUCTION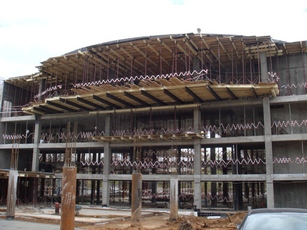 An amusement park will be built on the Varshavka shosse?
Municipality allowed to build an amusement park «Universal» on the Varshavka shosse.
     Urban development land commission of the Moscow government approved the construction of the multifunctional complex with an amusement park governed by the Universal Studios. The project was announced by the co-owner of Bin Group Sait-Salam Gutseriev in April 2012. Our "Disneyland" will be called IFC's "Galaxy Park." It will be located on a plot of 22 hectares on the spot automotive trade and technical center "Warsaw" (Warsaw Shosse, 170).
     The total area of the complex will be 1.2 million square meters. Besides the theme park (150 000 "squares"), it will include a number of hotels (120,000 square meters), a business center (160 000 "squares"), shopping area, a winter garden, a water park, conference hall, musical theater, transport interchange and parking for at least 10,000 cars.
     Completion of the construction is scheduled for 2018. Universal Studios theme park will be the first in Europe and the fifth in the world.
     At this time, Moscow is ready to implementation of the  several major projects of amusement parks. Thus, South Korea's Lotte Group plans to build Lotte World amusement park in the village "Nagatinskaya flood plain." In addition, the structure of "Engeocom" intend to establish in Mnevniki City Park "Fun."
Вернуться